Faces of Change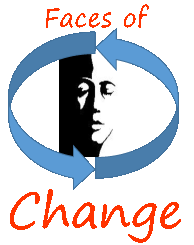 The NEXT STEP in leadership training from KYEA!
Are you a leader?
Do you know your leadership style?
What does leadership mean to you?
Explore these questions and more by attending Faces of Change!
What is Faces of Change?
Faces of Change, also referred to as Faces, is the newest program developed by the Kansas Youth Empowerment Academy (KYEA). Faces is a program focused on leadership development through service learning. Youth with disabilities who participate in service learning have been proven to take a more involved role in their education, resulting in a higher chance of staying in school and completing their education (PACER Center, Inc., 2008).
Some of the topics we will cover throughout the program include:
What is my leadership style?
What is my personality type?
How do I effectively communicate with others?
What is my passion?
What does leadership mean to me?
How can I inspire others?
How can I implement change in my own community?
What is the best way to advertise my project?
Who Can Participate?
Faces team members can range from the ages of 16 through 25. Team members must already have exhibited leadership skills in areas of their life and now be looking for ways to develop those skills to make them more effective in their leadership. Perspective team members should know they have leadership skills and be ready to take them to the next level by giving back to their community. Team members are selected through an application and interview process.
Like all of KYEA's programs, Faces is a cross-disability program. Team members will learn about the disability community movement and discuss how being a person with a disability impacts their leadership.

When is Faces?
This program is seven months long, with sessions taking place one weekend of every month in Topeka, excluding July. Each weekend session will focus on an area contributing to effective leadership, such as: what it means to be a true leader, authentic leadership, effective communication, and team motivation. Speakers, small and large group discussions, activities, and presentations are just a few of the ways the topics of each weekend will be addressed. With exception to the first weekend, all small group discussions will be led by team members, another way to utilize and develop leadership skills within a group of peers. After the topic-focused activities are done for the day, team members will have opportunities to socialize with one another, building friendships and a network of like-minded peers.

What Happens Between the Monthly Sessions?
Team members will be using the new leadership qualities they are learning throughout the program while they are at home between sessions as well. Tasks to be done at home will be given at the end of the weekend session, so as to allow team members to prepare for the next session and keep the skills they are learning in mind. The biggest portion of the at-home tasks will be the implementation of a Community Change Project. The Community Change Project is a community service project each team member will create and lead in their own community. The project is completely decided upon by the team member and can be in any area they find interesting. Throughout the Faces program, they will be creating, implementing, and completing their Project. This will put their leadership skills to work, giving them real world experience with the topics they discuss. They will have multiple opportunities to present on their project throughout its duration, beginning with presenting it as an idea and ending with a final presentation about what they accomplished and gained through their community service.

What Will Team Members Gain?
Faces gives team members the opportunity to take skills they already have to the next level by putting them into action. Each youth will leave having experience in community leadership, group facilitation, presenting, and project development. They will also gain a newfound network made up of their peers and community figures. Team members will leave the program prepared to sit on committees and/or boards of directors in organizations and take on other leadership roles within their communities. Youth who complete the rigorous Faces program will have a greater sense of pride and confidence that comes from creating a project from the ground up and seeing it through trials and errors to its completion.

What Makes Faces Different From KYEA's Other Leadership Programs?
KYEA's other leadership programs focus on finding your leadership skills. Faces is targeted towards young adults who have already exhibited their leadership skills and are ready to take those to a higher level by putting them into action.
Faces is a seven month long program that meets one weekend of every month in Topeka (excluding July).
A large portion of the Faces program focuses on service learning/community service.
Part of the service learning/community service component is the Community Change Project every team member will complete throughout the Faces program. No other KYEA program has a project like this, where each team member creates and implements a plan to create change in any area of their choosing within their own community. This project will take place over the seven months of the Faces program.
Team members will give presentations and lead group discussions.
Apply Today!
In order to participate, potential youth must fill out the Faces application. The application deadline is JANUARY 25, 2019. NOTE: This is an extended deadline!

Faces of Change Flyer PDF / Word / Text Only
Faces of Change Application PDF / Word
2019 Session Schedule Word Coming soon!
For More Information
Contact faces@kyea.org or 785-215-6655 for the full details!